SEND Coffee Morning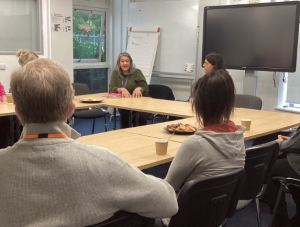 On Friday 14th October 2022, Ruislip High School's LSF department hosted a SEND Coffee Morning to introduce parents to Ms. Geraldine Pinnock, our occupational therapist, who specialises in sensory issues and sensory processing. 
Ms Pinnock gave parents a brief overview of sensory processing issues and how these may have an impact on their children. Parents were then given an opportunity to ask questions regarding the impact of sensory processing for their child. 
It was fantastic to be able to share Ms. Pinnock's expertise with parents and spark discussions regarding the challenges sensory needs might pose at home for our students. Ms. Pinnock was able to give strategies and suggestions for parents, to help support their children. Parents commented that they were pleased to be able to learn more about sensory issues and were relieved that they were not alone in their challenges. 
As a school, we will be holding more parent coffee mornings, which focus on issues of importance for parents who have a child with a special educational need. We hope to provide opportunities to discuss topics that may interest you or give you a chance to come along and meet other parents in our school community. Please look out for further information about these events in the future.