Ruislip High and Vyners students visit the University of Cambridge
14 Nov 22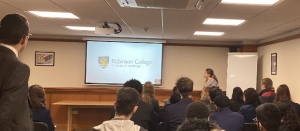 On Monday 14th November, students from Years 11 and 12 at Ruislip High School and Vyners visited Robinson College at the University of Cambridge. 
The purpose of the trip was for students to explore what making an Oxbridge application is like, as well as to see what life is like studying at Cambridge. The students were a credit to themselves and their schools throughout, asking intelligent and thoughtful questions. 
A highlight of the day was a visit to the group from Emma, a former Head Student from Ruislip High School, who is currently in her second year studying Law at the University of Cambridge. Emma spoke about her experiences applying from RHS, and gave her top tips to the students, who were inspired by her story. 
After a series of talks, the students had the chance to tour Robinson College and other parts of the university in the afternoon. 
Faaris, Year 12, who attended the trip told us: "The day was really insightful, and a great opportunity to see what studying at a top university would be like. I really enjoyed it."
Mr Peacock, Head of Year 13, who led the trip, summarised the day: "It was fantastic to see students from across the Trust fully engaged in discovering what making an Oxbridge application entails. The students asked a number of perceptive and intelligent questions, and were a joy to take on the trip."
We hope that all the students who attended the trip felt inspired. Thank you to all of the staff and students for making the trip a very memorable day.