GCSE Results Day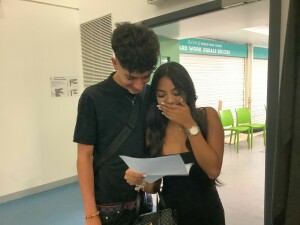 On Thursday 24th August 2023, Ruislip High School opened its doors to celebrate a successful set of GCSE results for our Year 11 students. After the success of our A Level and BTEC results last week, we were proud that our Year 11 cohort continued to exemplify our school's ethos of 'hard work equals success', with 31% of all grades awarded at 9-7, 66% at 9-5 and 83% at 9-4. 

As a school, we are incredibly proud of all of our students' achievements; the atmosphere in our school's Main Hall was full of positivity, as the school community came together to celebrate. 

Alexia, one of the Senior Prefects, achieved an incredible eight grade 9s, one grade 8 and an A* in the higher project qualification. She told us: "I would like to say thank you to all of my teachers who supported me throughout my time at Ruislip High School. I am really happy with my results and I am grateful to them for all of their encouragement; they helped me to feel confident going into my exams." Alexia will be continuing her studies at Ruislip High School Sixth Form, where she will be studying A Levels in Biology, Chemistry, English Literature and Psychology. 

Another happy student was Nathan, who achieved nine grade 9s. He said: "I am thrilled and still in a bit of shock to be honest. I am really excited about starting Sixth Form next year and can't wait to study A Levels in Geography, Maths and Biology." 

Liberty was elated with her results: "I am just so happy I passed Maths! I really feel like all of my hard work over my GCSE years at the school has paid off. I am so proud of myself'.

Finally, another student who was overjoyed with his achievements was Matthew, who gained seven grade 9s and two grade 8s. He said: "I am buzzing and ready to celebrate. I am really thankful to all of my teachers for their help in preparing for my exams. I have really enjoyed my time so far at Ruislip High School and I cannot wait to continue my studies here at the Sixth Form." 

Well done to all of our students; you should be so proud of your achievements. The majority of our students will be continuing their education with us in our Sixth Form from September 2023. For those students who will not be returning and are continuing their education journey elsewhere, we wish you the best of luck for the future.