A Level Media Trip to the BFI Southbank
7 Dec 22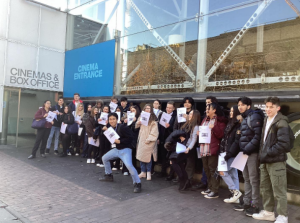 On Wednesday 7th December, the A Level Media Studies students in Year 12 and Year 13 headed into central London for the day, to take part in an 'Audience and Industry' study day. 
The event, hosted at the BFI Southbank, was a chance for students to hear from an external speaker about two of their exam case studies, Marvel Studios and The BBC. Students then got to think about how they could apply information about both companies to their examination answers.
During the day, our students got involved in a variety of activities, which required them to share their ideas and opinions with students from other schools across London. The main speaker of the day was incredibly impressed with the articulate way in which our students expressed their opinions and told us that she valued their excellent contributions to the day. 
Mia, Year 13, who attended the day said: "It was a good opportunity to revise our course content and feel proud of ourselves for how much we have learnt on the A Level course."
Ms Ohana, who led the trip said: "The purpose of the day was to revise content covered on the course, to help prepare our students for a challenging part of their examinations. Our students not only proved that they have an excellent understanding of the course content, but they have the confidence to articulate their insight clearly. All of the media students should be really proud of themselves - they really shone."
Thank you to Ms Ohana and Ms Kwan for taking the students to the event. Well done to all of the Media Studies students for getting fully involved in the day.