Year 7 Astronomy Evening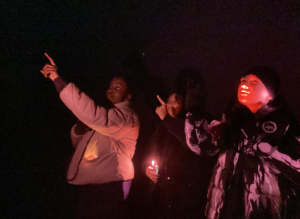 On Wednesday 7th December, a number of our Year 7 students took part in our annual Astronomy Evening, hosted at our new EcoHub facility. 
Students had the opportunity to use specialist virtual reality equipment to go on guided tours in space. These tours ranged from seeing Mars, from the Mars Rover's point-of-view, to a tour of the entire Milky Way. Students also got the chance to watch comets and shooting stars passing through our galaxy. 
Meanwhile, in our outdoor classroom, students had their red torches, sky guides to know where to orient their binoculars, and telescopes. Using this equipment, students found where Jupiter and Saturn were in the night sky. 
The aims of the event were for students to understand just how vast our universe is, through studying the night sky. They also learned how they can take part in astronomy at home. 
After having a go with the telescopes Harrison, Year 7, told us: "The evening was great fun. The telescopes really zoomed in on the objects in the sky. I found out that Jupiter looks like a star!"
Another student, Elin, who took part said: "I really loved Astronomy Evening - looking at the stars, moon and planets was very exciting."
Ms Hide, Director of Science, said: "Our second astronomy evening was such a great night! We were lucky enough to have a clear sky and the students took full advantage of the equipment provided to look up at the planet and stars. Everyone who took part was amazing."
Thank you to the RHS Science Department for hosting the event and well done to all of our students who enthusiastically took part.